Types of Modular Kitchen Baskets
There are several types of modular kitchen baskets that can be used to organize and maximize space in a kitchen. Some of the most common types include:
1. Pull-out baskets: These baskets are typically mounted on a rail system and can be pulled out for easy access to the items stored inside. They are often used for storing pots and pans, cutting boards, and baking sheets.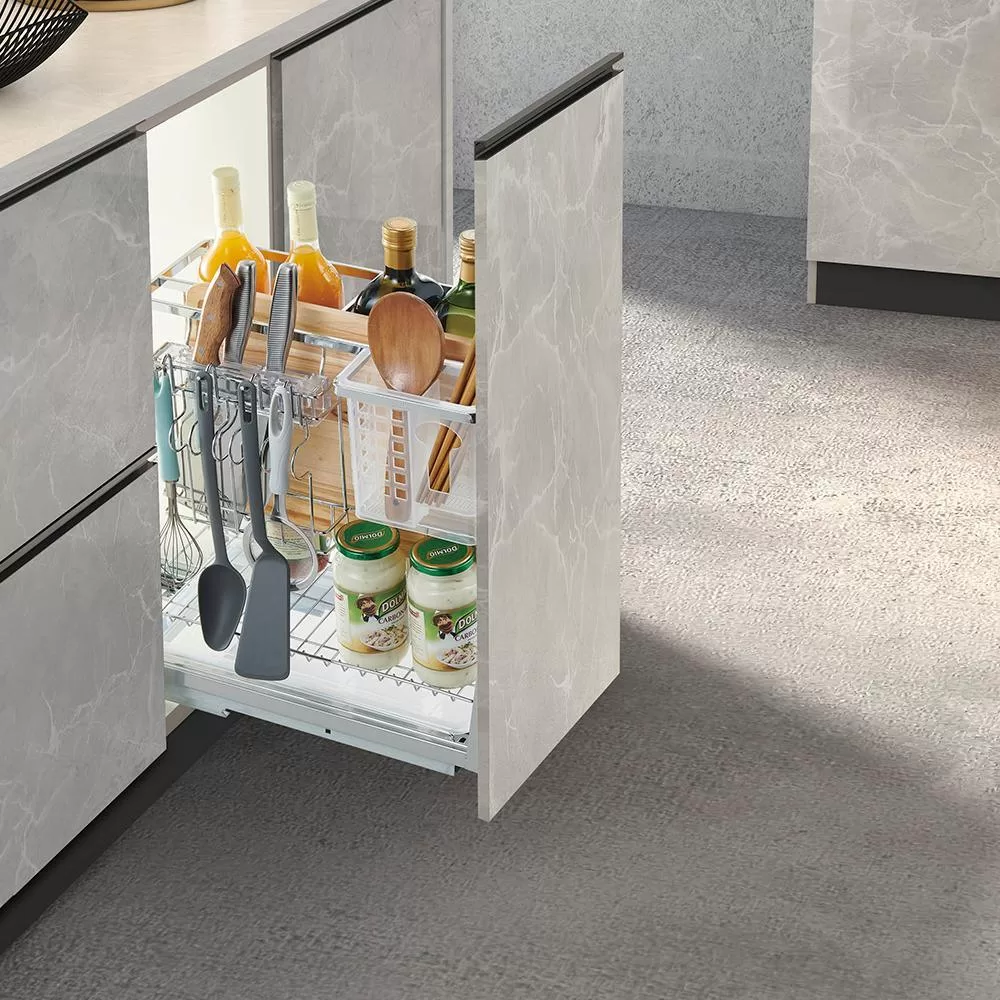 2. Corner baskets: As the name suggests, these baskets are designed to fit into the corners of a kitchen cabinet or pantry. They are often used for storing items that are not frequently used, such as holiday dishes or special-occasion glasses.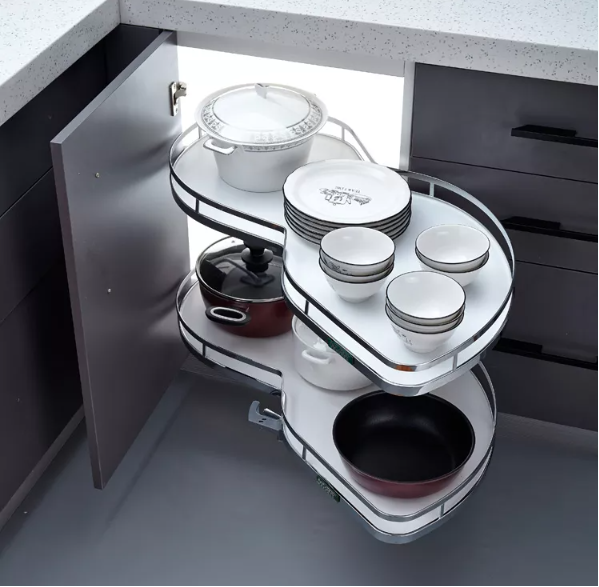 3. Tall pull-out baskets: These baskets are similar to pull-out baskets, but are taller and deeper, making them ideal for storing items such as bags of flour and sugar, or bottles of cooking oil.
4. Cutlery baskets: These baskets are specifically designed to store cutlery such as forks, knives, and spoons. They can be divided into separate compartments for different types of utensils.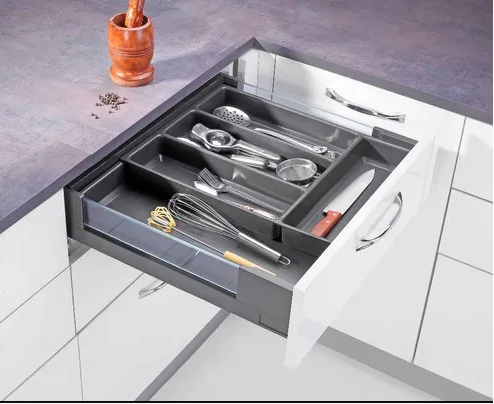 5. Plate baskets: these are for storing and organizing plates and saucers in the kitchen cabinets. They can have multiple compartments to help separate different size plates.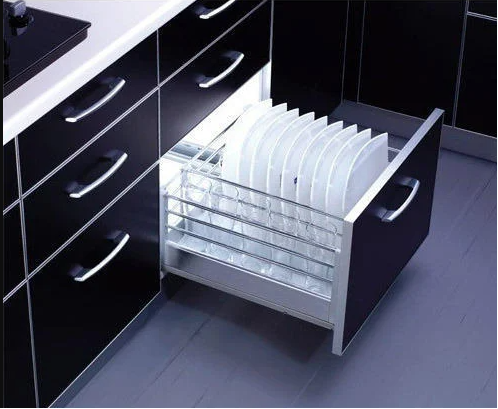 6. Trash pull-out: This type of basket is designed to hold a trash can and is mounted on rollers so that it can be easily pulled out of the cabinet.
7. Cup & Saucer Basket: that is designed to hold cups and saucers in a compact, organized manner. This type of basket is typically made of metal or plastic and is designed to fit into a specific area of a modular kitchen, such as a cabinet or a pull-out drawer. Some cup and saucer baskets may have dividers or compartments to keep items separate, and others may be adjustable to accommodate different sizes of cups and saucers.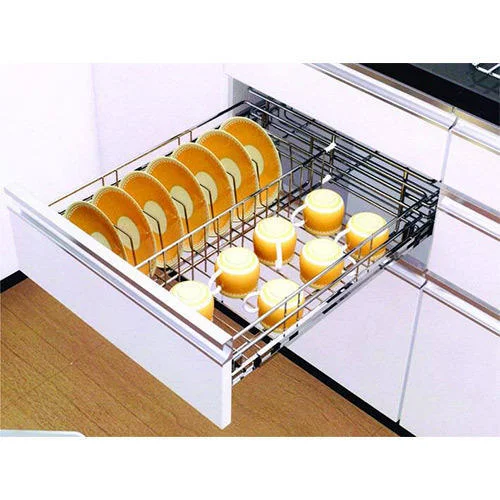 8. Detergent Basket: This is mounted on rollers and slides out of the cabinet or pantry on tracks, usually used to store detergents and cleaning supplies.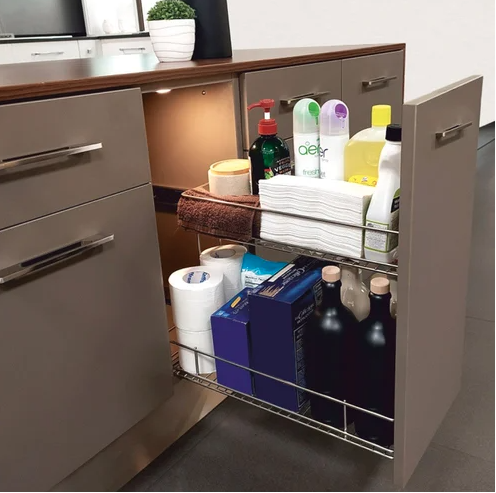 9. Tray basket: This type of basket is designed to store trays and other large, flat items. They are often used in conjunction with pull-out baskets to create a complete storage solution.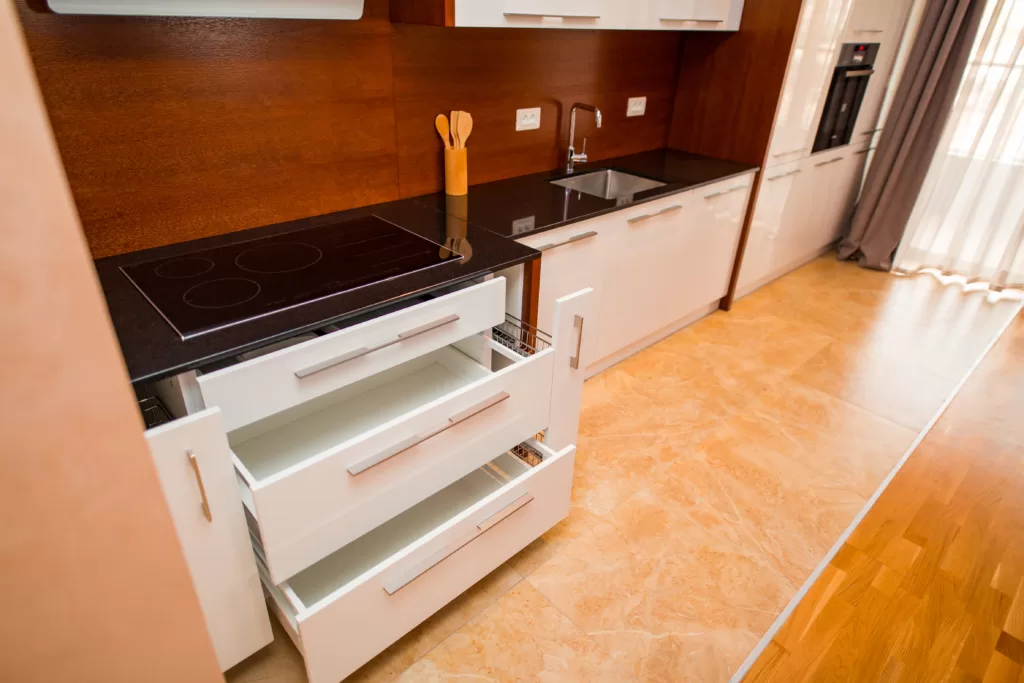 These are some of the most common types of modular kitchen baskets, but there are many other types available as well. It all depends on one's requirement, size and design of the kitchen. If you are looking for Factory made Modular kitchen for your home, Reach out to us at info@kgmiservices.com or contact us here